FAQ
FREQUENTLY ASKED QUESTIONS
   General Questions
   Your Account
   Distributor's Terms of Agreement
   Shopping Online
   Shipping & Delivery
   Payment & Billing
   Policies
General Questions
What makes ZHULIAN different from competitors?
The exclusive ZHULIAN brand creates a difference with its comprehensive business model, high quality products that compare to none. We inspire people to go for their goal by offering people a rewarding business opportunity.
I am having problems viewing the entire website
In order to use this site, you must have "cookies" enabled on your computer. To do this, go to "Tools" on your Internet browser, and then select "Internet Options". From there you will need to adjust your security or privacy settings to allow all cookies. This website WILL NOT work properly unless you do this. For Apple Macs please consult your relevant technical help team.
If you are using Firefox browser, during your first visit to the site you will encounter warning "The connection is untrusted".  To proceed, click on the option "I understand the technical risks". You will encounter this only once and will not have to do it again on your next visit.
Where can I purchase ZHULIAN products?
ZHULIAN products are available in the Zhulian Online or Zhulian.com.my (Shipping within West Malaysia only) and also at ZHULIAN Authorised Agencies located at major cities and towns in Malaysia.  For more details, please click on Zhulian Authorised Agencies Directory.
Is your website secure?
The ZHULIAN website adheres to best practice e-commerce security measures.
Your Account
You need to be a ZHULIAN member/Distributor to shop on Zhulian Online or Zhulian.com.my. All you need is your TRN (Temporary Registration No.)/DRN (Distributor Registration No.) and password and you can purchase products by selecting and saving items in cart, check the status of your orders, and much more!
I want to purchase ZHULIAN product via Zhulian Online or Zhulian.com.my, what should I do?
Existing Distributor
ZHULIAN's website: Zhulian.com.my gives you the flexibility of logging in to the system with your existing TRN/DRN.  However, you are required to activate your account on your first login attempt, please follow the steps as below:


Click 'Login' on the top right corner at the homepage of Zhulian Onlineor Zhulian.com.my.
At the 'Member Login' box, click 'First Time Login'.
Key in your valid DRN/TRN, IC No./Passport No. and  Email Address.
Login to your email account and click the 'Activate Account' button in the email sent by [email protected] to verify your email address.
Verify all your personal details and set your password. Then, click 'Submit' to proceed to shopping.


Note: For the existing Distributors who already have web account with our previous website, you will receive an email from [email protected] providing you a password to login.  For those who did not receive it, please follow the above 5 steps to activate you account.
If you have problems logging in, please contact our Customer Service Team via [email protected].
Non-Distributor
Only a ZHULIAN member/Distributor is able to enjoy the convenience to shop online and also to receive updates through email on new product range, exclusive offers or any other promotion campaigns.   To join as a new member/Distributor, please follow the steps as below:


Click on "Join Now" on the top right corner on the homepage of ZHULIAN website; or Click the link here: Join Now
Key in all the necessary information in the 'Register' page and click 'Submit'.
Login to your email account and click the 'Validate Email' button in the email sent by [email protected] to verify your email address.
Choose to either "Checkout" or "Proceed to Shopping".


 Application must be by an individual, not a company or organisation. Applications using company's name or any name other than personal name will not be processed. ZHULIAN reserves the right whether to approve or reject this application.

If you would like further advice on how to register, please contact our Customer Service team via [email protected].
I do not know anybody in ZHULIAN business and do not have any sponsor's details, can I still join as a Distributor?
Yes, you can. 
I have not received the confirmation email to complete my registration to activate my account. What should I do?
Please check in your junk/spam mail folder. If you still cannot find the email, you might have key in your email wrongly.  In such case, you can repeat the process.  You will then be prompted to check on your email address where a confirmation email will automatically be sent. Once you have clicked on the 'Validate email' button in the confirmation email that you received, your account will be fully activated.


I forgot my password, what should I do?
ZHULIAN's website: Zhulian.com.my uses the TRN/DRN and password in order to log into your account. If you forgot your password, you can recover or reset it using the "Forgot password" feature at the 'Member Login' box and complete the steps to reset your password. Please remember that password field is case sensitive.
Note: To protect yourself against unauthorised purchases to your credit card, do not reveal your password to anyone.


Where can I view my online order history and online purchase record?
You can access to the above information in the respective page under "My Account" section upon logging in:
"Order History" - to view the status of your order.
"Purchase Record" - to view you previous successful or completed online transaction.
 
How can I check on my promo voucher?
You may obtain your gift voucher information via the following methods:
Log in to Zhulian.com.my and view your gift voucher information in the "Vouchers" under the "My Account" menu.


How can I get my business information such as my sales track records, number of direct Downlines or Qualified Lines under my network?
You can find all the above details by clicking the "Business Information" link under the "My Account" menu.


Where can I access my previous monthly or yearly e-statements?
You can access your "e-statement" by clicking the "Business Info" link under the "My Account" menu to view or download your monthly and yearly e-statement.  
Distributor's Terms of Agreement


 
What are the Terms and Conditions that I should abide by as a ZHULIAN Distributor?
Applicant must be 18 years of the age and above.
Upon approval of the applicant to be a ZHULIAN Distributor, the applicant will automatically be recognised as a distributor of ZHULIAN and the distributorship will be valid for 12 months.  
A ZHULIAN Distributor must abide by and conform to the ZHULIAN Rules of Conduct as stated in ZHULIAN Business Manual.
*The ZHULIAN Rules of Conduct in their present form and as amended from time to time by the Company shall form an integral part of the Distributor e-registration and constitute part of the contract between the Company and the Distributor.


Do I have to renew my Distributorship?
Yes, your distributorship is only valid for 12 months.  Please refer to your distributorship's expiry date in 'My Profile' page.  As a Distributor, you are required to renew your distributorship in accordance to Rule 3 of ZHULIAN Rules of Conduct.  Once your distributorship has expired and your Personal BV does not achieve 600 during your distributorship's validity period of 12 months, then your renewal fee will be automatically added to your cart when you shop online at our website.
Shopping Online
Zhulian Onlineor Zhulian.com.my offers a wide selection of products for your convenient online shopping. If you can't find what you are looking for in the website, you may use the Authorised Agency Directory to locate the nearest ZHULIAN Authorised Agency in your area.
How to place an order from ZHULIAN online?
Select the items that you want to order and add them to your shopping cart. On the top right corner of the page you will find a 'Cart' with number of items at its side, click on it to view the details.  If you already have ZHULIAN account, please login to your account or if you are new, you may create an account before proceeding with the checkout process.
If you are happy with your shopping cart, click the 'Checkout' button where you can enter your billing address, shipping address and promo code (if any).  Then, click the 'Continue' button to proceed to payment.  Please note, DO NOT logout of the page or use the return button while we are authorising your Credit Card/Debit Card as this can result in order duplication. Once the system has completed the checkout, you will receive an email containing your order details.
Can I cancel or change my order?
Once you have placed your order, you are NOT allowed to cancel or change it.
Is there any requirement for the order I place online?
No minimum order required. 
What is your return policy?
ZHULIAN offers products of international quality to every customer/Distributor. We guarantee a replacement if the product(s) that you purchased has the following conditions:
- It is damaged or defective upon receipt by you.
- There is a discrepancy between ordering and delivery.

However, this guarantee does not extend to damage or contamination due to expiry, negligence or deliberate acts.  We may offer an exchange at our discretion as appropriate in accordance with our prevailing Return Policy within 7 days from the date we receive your return.
Product(s) (that are wrongly delivered) must be returned in its original packaging ~ undamaged, useable, resaleable, restockable, unopened and unaltered.  
You are required to notify us about your return request by completing the required information by clicking the 'Return Items' button on the 'Complete' page in 'Order History' menu under 'My Profile'.
At the time of returning the products, you are required to attach a copy of the Cash Sale and/or Delivery Order for the returned product(s).
Original shipping costs will not be refunded and you will bear the cost of shipping the goods back to us. You are responsible for all goods until the goods reach us.

Shipping & Delivery
Can I have my order delivered to an address other than my home?
For your convenience, you may prefer to have your order delivered to your office address. If you choose this option, please include the name of your business in the address during online ordering. Please note, if you choose this option, goods may be left with reception or the Mail Room.
Delivery to PO Box is NOT PERMITTED for security reasons.
Signature on delivery.
If you will not be home to accept delivery of your order, consider shipping your order where someone you trust will be able to sign for your parcel.
I need to change my shipping address.
You are not allowed to change your shipping address once your order has been shipped. Please ensure you entered the correct delivery address when you placed the order online via ZhulianOnlineor Zhulian.com.my.
What happens if my delivery goes missing or is damaged?
In case of any problem with your delivery, please report to our Customer Service team and we will be in direct contact with the courier company to resolve the issue as quickly as possible with as little inconvenience to you.
If you have already received your order and find that it is damaged, please refer to our Return Policyor contact our Customer Service team via Tel: 604-6162083/6162084 (Operating Hour: 9:00 am to 5:00 pm, Monday to Friday) for assistance.
How my order will be shipped to me?
You order will be shipped using courier service.
How much am I charged for shipping?
FREE shipment applies to orders exceeding RM300.


For orders below RM300, there will be a shipping fee charged based on the weight of item(s) you ordered as well as the destination of your order:
1 kg or less = RM4.50, 1 - 2 kg = RM9.50, 2 - 3 kg = RM13.50 and subsequently additional charge of RM4.00 per kg.
The above shipping charges are subject to changes at any time without notice, at our sole discretion.


How fast my order can be processed?
Order placed before 12 noon will be processed in the same working day.
Order placed after 12 noon will be processed in the next working day.
When can I expect to receive my order?
Once your order has been handed over to the courier service provider for delivery, you will receive a notification email with courier service provider and tracking information. Delivery will take 1 - 5 working days after the product has been shipped.  Please note that all delivery lead time are estimated.

Payment & Billing
Payment methods
Zhulian Online or Zhulian.com.my accepts payment using online transfer, Visa and MasterCard credit cards, and debit cards with Visa or MasterCard logo.

Terms and Conditions of Online payment

Only applicable for selected banks – Maybank, Public Bank, Bank Islam, Hong Leong Bank, RHB Bank, CIMB Bank, Ambank, Bank Rakyat and UOB Bank.
ZHULIAN will not be responsible for any direct/indirect consequences arising from the use of online /other mode of payment issued pursuant to this contract or any time thereafter.
Please ensure bank account number is correct.  ZHULIAN will not be liable for any loss or damage and/or costs and expenses incurred as a result of incorrect information given.


Credit card account verification
Please ensure that the billing address on your order is identical to the information on your credit card account/statement to prevent any unnecessary delays in processing your order. You may contact your card-issuing bank using the number on the back of your credit card to check and confirm the details.
Security codes
The security code for your credit card is a unique 3-digit number printed on the back (MasterCard/Visa) of your card.
MasterCard/Visa: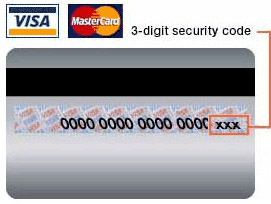 Troubleshooting credit card payment errors:
Please do the following when you encounter payment errors:
- If you credit card is new or recently issued, make sure it has been activated.
- Double check the card type (for example, Visa), the account number and expiry date.
- Remove dashes or spaces from the account number.
- Check with your bank whether you have sufficient credit limit available.
- If everything seems to be correct, call the card issuer's customer service number on the back of your card. Your credit card company may need to speak with you before they authorise your purchase.
Can I change my payment methods?
Select from the options under the 'Payment method' feature each time you shop at Zhulian Online or Zhulian.com.my., whether to pay via your credit card/debit card, online payment or your PayPal account.
Why was my credit card payment not processed/unsuccessful?
Your credit card company may have declined authorisation to debit your card due to any of the below mentioned reasons:
- Your payment amount exceeded your credit limit.
- The incorrect card type, account number or expiry date was accidentally selected when placing the order.
- Your bank requires verification from you before authorising the purchase.
- Your card may be recently issued and has not yet been activated.

Policies
Privacy Policy
We are committed to protecting your private information. Read the details of our Privacy Policy.
Terms & Conditions
Read the details of our Terms of Use.